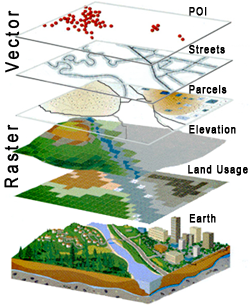 Welcome to the Department of Geographic Information Systems (GIS) for Vernon County, Missouri.
What is GIS?  GIS is a collection of computer hardware, software, and geographic data for capturing, managing, analyzing, and displaying all forms of geographically referenced information…
OR… in simpler terms; we create and maintain electronic maps and databases that together improve our problem-solving capabilities by allowing us to see a "bigger picture" of how various information pieces interact with one another.
Online mapping programs offered By Google, Mapquest, and otheres are good examples of GIS for the masses.  They provide basic services that the majority of us now take for granted — like being able to plan a road trip from point 'A' to point 'B', along with estimating the mileage, gas consumption, time,  and stops along the way — all in a matter of seconds.
However a well-constructed local GIS can offer significantly more information and tools tailored to help solve problems more closer to home that is not readily available via mass GIS.  Examples include-but-are-not-limited-to more efficient…
9-1-1 & Public Safety
Property Management
Agricultural & Environment Assessments
Public Works Planning
Census & Elections
Business Logistics
Utility Management
______________________________________________________________________________